Photos of the Durousseau and Trahan Families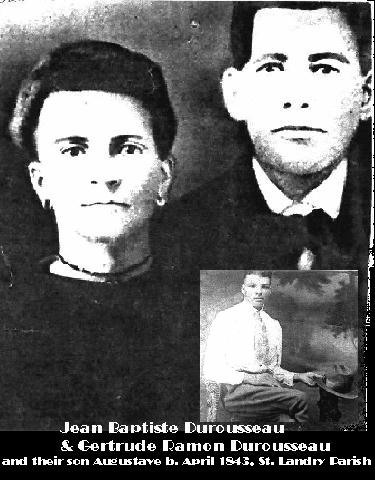 Regina Trahan was the next child born to Jean and Rosema. Regina was born on 25 Dec 1886, in Youngsville, La. Regina married Gustave Stanislas Durousseau. Gustave was born on 10 Oct 1875 in Mallet, La. Gustave died on 2 Aug 1950 in Lafayette, La. where he is buried. Gustave S Durousseau was the son of Augustave Durousseau and Célima Louise Simon. Augustave and Célima married at the Opelousas church on 7 March 1864. Augustave was born ca. 1844 and was the third of six children born to Jean Baptiste DuRousseau, pére and Gertrude Ramón. Gertrude was a free woman of color who married Jean Baptiste, pére on 15 Mar 1839, in Opelousas, La.Gertrude was from Texas and was the daughter of Trinidad Ramón and Tomassa Vásquez. Jean Baptiste Durousseau, pére, was the son of Pierre Durousseau and Caroline La?? (*213*).The first child born to Jean Baptiste, pére and Gertrude Ramón was Jean Baptiste DuRousseau fils de couleur libre. Jean Baptiste fils was born ca. 1838 and he married Augustine Simon, also of "free color" on 2 Sept 1861 at the Opelousas church (*213*).Augustine was the daughter of Louis Simon and Célestine De La Fosse.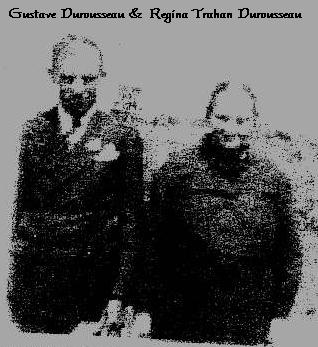 Gustave Durousseau was the son of Augustave Durousseau and Célima Louise Simon.
Regina Trahan was the daughter of Jean Baptiste Trahan and Rose Emma Victorianna.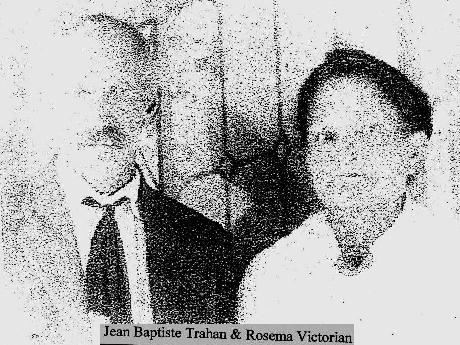 The Descendants of Jean Trahan
At least eight children were born between Jean and Rose Emma.The first child born to Jean Trahan and Rose Emma Victorianna was Ernestine Trahan born on 12 Oct 1881.Ernestine married Ernest Honore who was born 12 Oct 1876 in St. Martinville, La.Ernest was the son of Charles Honore and Maryanne (Bela?).Ernestine Trahan and Ernest Honore had at least six children: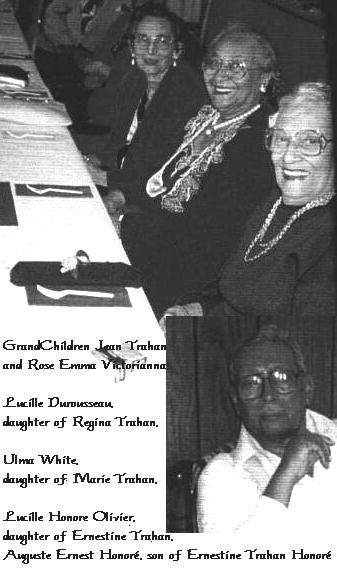 Regina Trahan and Gustave Durousseau had at least seven children:
1. Rufus Durousseau, born on 28 Aug 1915;
2. Albert Durousseau, born in 1917;
3. Dolores Durousseau, bornon 30 May 1919;
4. Lucille Durousseau, born on 18 Sep 1922;
5. Antoine Durousseau born on 11 Jan 1924 in Opelousas, La.Antoine married Ruth Estelle Lewis on 1 June 1946 in Los Angeles, Ca.Ruth was born on 27 Oct 1927 in Denver, Co. and died on 7 Jan 2000 in San Diego, Ca.Antoine married a second time to Joyce M. on 14 March 1981 in Los Angeles.Antoine Durousseau and Joyce M had three children:
6. Doris Durousseau, born on 8 Nov 1925, and
7. Linzay Durousseau born on 6 Apr 1927.


Rufus, Linzay & Antoine. Three Durousseau brothers in a World War II military pose.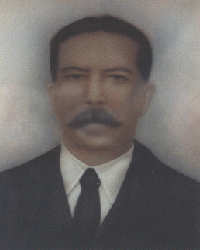 Pierre Trahan was the brother of Jean Trahan and Célasie Trahan.
Their mother Emérethe gave birth to at least three children from
her white slave owner Evariste Trahan.
Pierre was born in 21 Aug 1853 in Vermillion Parish, La.
Evariste Trahan's ancestry can be traced back to the
Trahan, Pitre, and LeBlanc, families of 16th century France.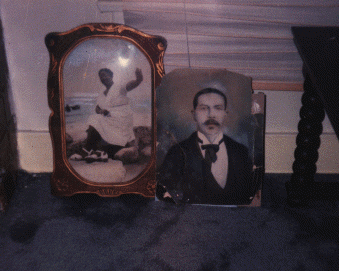 Pierre Trahan and his daughter Marguerite Isola Trahan.
Marguerite (Maggy) married Gilbert Joseph Jacquet who gave birth to
Robert Russell Jacquet and Jean Baptiste Illinois Jacquet, the world famous saxophone player.